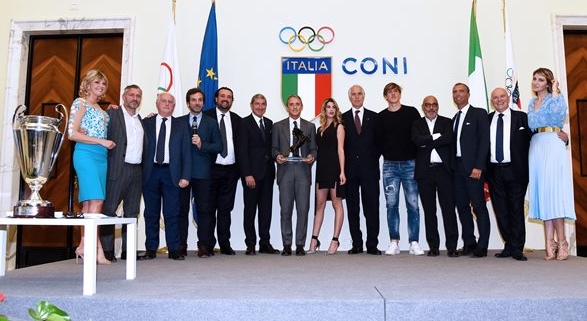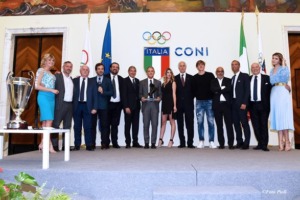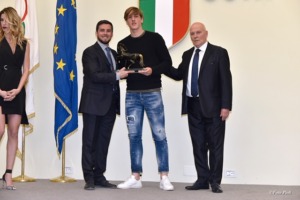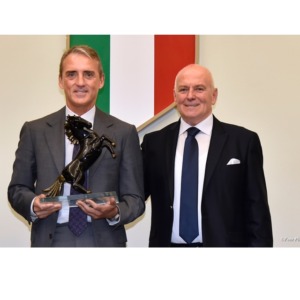 The awarding ceremony for the Beppe Viola XXXVI Sports Culture Award took place on Tuesday, May 14th at the CONI Honor Hall.
The event aims to recognize and celebrate the merits and skills of those managers, athletes and journalists who have distinguished themselves in their career for sporting culture.
The organizers Raffaele Minichino, President of the Beppe Viola Association, and Bruno Molea, National President of AICS, have summoned Roberto Fabbricini, Andrea Montemurro, Roberto Mancini, Carlo Paris, Stefano Orsini and Nicolò Zaniolo to the sports temple
The evening was presented by Marco Lollobrigida and Claudia Andreatti.
Special recognition is given to coach Igor Trocchia who has withdrawn his team from a tournament following racist offenses against one of his players.
At the opening, the speeches by the President of the Jury of the Franco Melli Award and the National Secretary of the Order of Journalists Guido D'Ubaldo, member of the Award Jury.
Let's get to the heart of the awards: the first to receive the Award are the press representatives Carlo Paris, former Director of RAI sport and currently RAI correspondent in Jerusalem, and Stefano Orsini, Head of sports services of TGR Lazio.
We continue with the sports managers Roberto Fabbricini, formerly Secretary General of CONI and President of Sport and Health Spa, and Andrea Montemurro, President of the 5 LND Football Division.
The grand finale is reserved for the AS Roma footballer Nicolò Zaniolo and the coach of the Italian national football team Roberto Mancini, visibly excited to receive the award.
We thank all the organizers, especially in the figure of Raffaele Menichino, for having chosen us also this year for the awarding, renewing a collaboration that has happily continued for years.
See you at the next Murano Più event, have a nice day everyone!
Murano Più – Made in Italy Staff.
Source: www.torneobeppeviola.it -> http://www.torneobeppeviola.it/archives/31279
https://www.murano-roma.com/wp-content/uploads/2019/05/muranopiù-torneo-beppe-viola-1.jpg
391
587
MuRaNo
https://www.murano-roma.com/wp-content/uploads/2020/10/murano-piu-logo.png
MuRaNo
2019-05-30 15:23:24
2020-03-11 15:26:30
Beppe Viola XXXVI Sports Culture Award, Rome